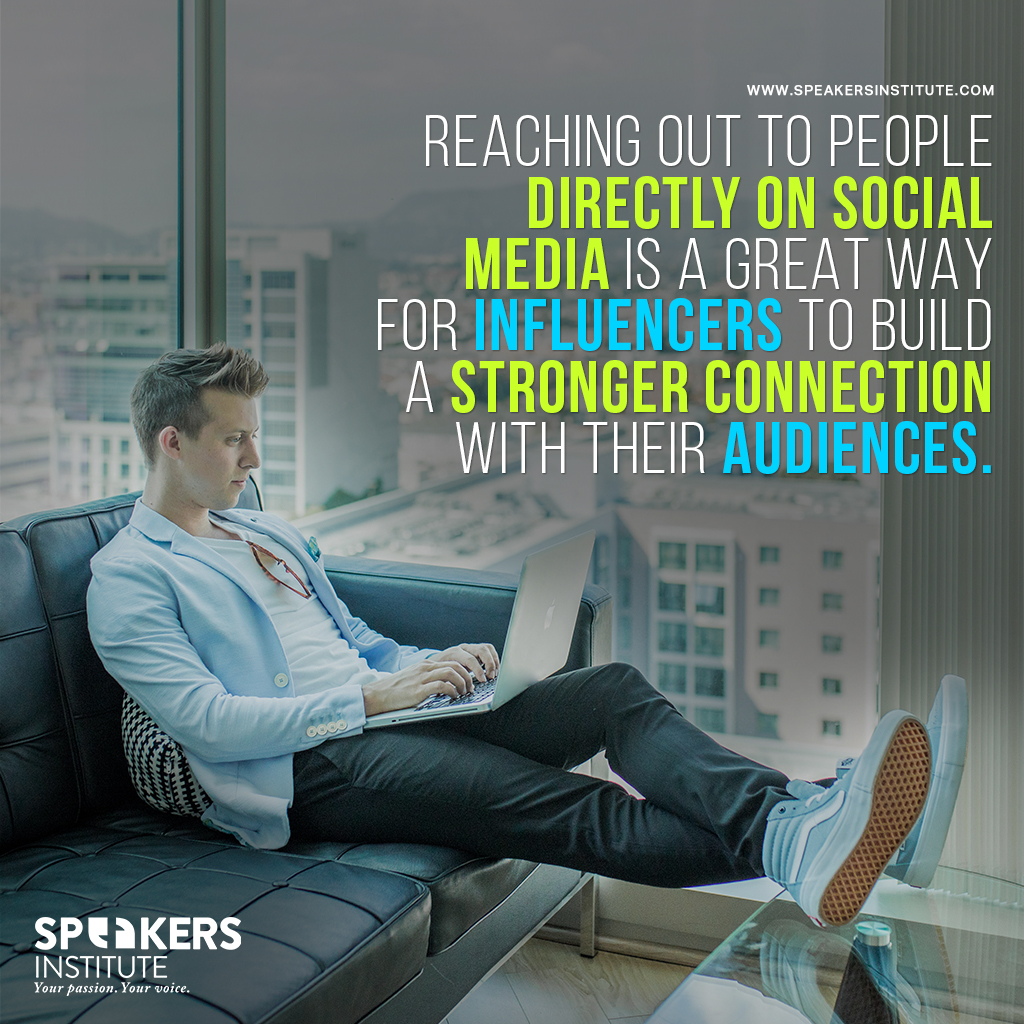 The web is one of the most powerful tools at any influencer's disposal. And in social media, you have a platform that can help you reach a wider audience. Here's how to use it effectively.
Every influencer wants to expand their audience. But you can only rely so much on your speaking, especially in the early stages of your career. If you get to show your story to a hundred people at a time, you're doing well.
Still, that's not a huge number of people. You want to speak to more people, which means you need to broaden your horizons.
Using social media is the key.
Why? Just think about this:
Facebook has over 1 billion active users from around the world.

100 million people use Instagram every single month.

LinkedIn has 500 million users.
That all amounts to an enormous audience that you're not reaching out to if you don't have an effective social media strategy.
As an influencer, you can use social media to build your reputation and reach new people. Ultimately, that leads to more speaking engagements and greater success.
You just need to know how.
Here are four tips for leveraging social media to benefit your speaking career.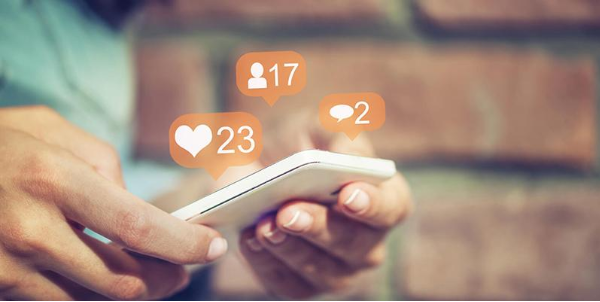 Tip #1 – Figure Out Your Target Audience
Here's a simple fact that every influencer has to accept.
Your message isn't going to appeal to everyone. Your job is to figure out what types of people want to hear your story. From there, you can start marketing towards those people.
Your social media accounts offer plenty of metrics to help you with this. For example, Facebook users can check who likes and shares their posts to get a basic idea about their target audience. Running ads on the platform provides even more details about who engages with your messages.
Facebook also allows you to build custom audiences, from which you can build lookalike audiences.
Here's an example of how this works. A company called Camp and Furnace wanted to use Facebook to get more people to visit their events. They'd used social media ads before. But they hadn't really targeted them towards a specific audience.
Then, they started using Facebook's Custom Audiences tool.
Facebook allows you to create a custom audience when somebody shares their information with you. This sharing includes visits to your website and engaging with your social content. You can then directly appeal to these people with ads.
Camp and Furnace took it a step further. They also used the Lookalike tool to extract key data from their custom ad campaigns. This tool helps you identify the traits and interests that people who are most likely to engage with your content tend to share.
From there, you can identify your target audience.
Upon identifying their target audience, Camp and Furnace increased their ticket sales 27 times over. This resulted in a 20 times improvement in revenue.
All of that came from using social media to figure out who their marketing efforts should target. Best of all, you can carry this information through to your other social media and marketing campaigns
Tip #2 – Reach Out to People Directly
Social media offers you the chance to interact with your audience directly. There are so many ways that you can take advantage of this.
From a customer service perspective, you can use social media to answer direct queries from clients. For example, people may have questions about one of your upcoming speaking engagements. Providing a direct response shows that you care about having that audience member at the engagement.
Better yet, these queries may even provide you with ideas for other content to share. You can use these ideas to become a stronger authority in your niche.
You can also use social media to quiz your audience and encourage them to interact with you. Kellogg's did this with their "Tweet What You Eat" campaign. This initiative challenged Kellogg's customers to share pictures of the foods that they eat.
This encouraged the brand's audience to share content and interact with them. Plus, it provided a ton of useful data that Kellogg could use to inform future marketing campaigns.
You could do something similar. Encourage past audience members to share pictures and takeaways from your speaking engagements. Hold contests and surveys to keep your followers engaged. Anything that makes your followers feel like part of your story keeps people interested.
Using social media to interact with followers allows you to answer key questions and strengthen engagement. It's a crucial element of any personal branding strategy. Plus, this heightened engagement shows others that you're an influencer. This makes them more likely to follow you, which means you can show your story to a larger audience.
Tip #3 – Post Before and After Your Speeches
Social media is a great tool for publicising your engagements. This stretches beyond sending out ads. You should talk about the event almost up to the moment that you go on stage. Plus, you should share your own feedback and takeaways from your speech once it's done.
This is a technique that influencer and corporate expert Jeffrey Hayzlett uses to great effect. As a radio and television host, he's amassed a large following on social media. He's constantly keeping those followers up to date on his work as a speaker.
Jeffrey tweets before taking the stage. And after he's done, he'll share photos and talk about his favourite parts of his speech. Often, he'll mix in a little bit about one of his key threads to influence people into checking him out.
There are several reasons why this is a good technique. First, you're offering constant reminders to your audience that you're still active. That can encourage followers to research your other speaking engagements. Plus, it's an easy way to show bookers that you're available without having to contact them directly.
Secondly, posting right after speaking gives you the chance to continue the conversation while your speech is still fresh. You can encourage attendees to share their own experiences while they're still excited about having seen you. This enthusiasm bleeds into their posts and gets others excited about coming to see you speak.
Thirdly, you're giving your followers just the slightest taste of what you have to offer. That little bit of intrigue that you create may be all that you need to convince someone to come to your next event.
Here's the best part.
This is all shareable content. As well as appealing to your followers, you're providing them with things to share with their own followers. Again, that means you can broaden your horizons and appeal to a new audience.
Tip #4 – Build Social Into Your Speaking

You may have an awesome social media strategy that you focus on when you're off stage. But you're still missing a few clever tricks that can help you along. Your focus on social doesn't stop once you head out on stage. In fact, your speaking allows you to build an even more powerful social media presence.
Marketer and speaker Bob Cargill goes into more detail in an article published by the American Marketing Association. He says that you can do the following to give your social campaigns a boost while on stage:
Don't discourage people from whipping their phones out and taking photos while you're speaking. Yes, it can feel a little rude to have people looking at their phones rather than you. But people also want to share what they're doing at all times. Letting people do that as you speak means they're sharing their impressions of you with their followers. That's going to get you in front of even more people.

Make it easy to find you. If you're using slides, make sure you incorporate your social media profiles into them. You may also have banners, business cards, and handouts. All of these should tell people about your social media profiles.

You want to build a buzz around what you're doing. Create a catchy and shareable hashtag for the event that gives people something quick and easy to share. Again, put this hashtag on marketing material and make it a prominent part of your speech.

Move around onstage. People love to take photos and share them. By moving around, you're ensuring that people can get some good shots to share. Plus, you're more engaging when you use your body as you speak.
The key point here is that social media is ever-present in most people's lives. Cargill shows us that you can't ignore it when you're on stage.
The Final Word

A good social media strategy helps you to reinforce your personal brand and build your influence. Use it to figure out your target audience so you know who your message resonates with.
Communicate with people directly and ask questions. Keep people engaged by posting a good mix of useful content and personal interactions.
Finally, use social media to create a buzz around your speaking. Post before and after your engagements to keep people talking about them. And try to make social media a key part of your presentation.
It's all about building your reputation and creating a business around your storyshowing.
Speakers Institute can help you do just that. Now that you have this advice, try doing the following:
Head to the GREENROOM. The #1OnlineHub connecting you to the world's leading Influencers, Training and Curriculum.

Join SPEAKERS TRIBE CONFERENCE. The Ultimate Annual event for Influencers globally. (Apply to Speak)

Attend MASTERING STORYSHOWING FOR INFLUENCE AND AUTHORITY. This is a free event where you learn from 7 times International Best Seller and Professional Storyteller, Sam Cawthorn, about his secrets and techniques.