Over the next few days I'll be blogging and sharing the musings I'm learning from the number #1 Speakers Convention in the world. NSA (National Speakers Association) 'Influences' Conference 2018.
---
After a short 1:1 breakfast with the Global President of the Speakers Federation; sharing ideas about the International Convention 2018, I joined the 50 other 'Million Dollar Speakers Group', (an invite only day) consortium of speakers sharing best practice.
First was Dr. Nido R. Qubein professional Board Member who is the current chairman for Highpoint University, among others. http://www.highpoint.edu/president/ Very informing about the benefits of being on a Board and the value that comes with it.
Second speaker was the highlight for the morning. Bill Walsh from Powerteam International – http://www.ipowerteam.com/ .
Below I have dot points of value copied and pasted from my notes:
Buskerm.com (Brand new website?)

Instashot (Instagram video editing)

You must know your content: What does your customer leave with?

Know in advanced where you are going to move your audience: Feed very powerful questions at the start

Know 'sense of urgency' or they will not buy today: "I'm looking for 20 people today that…"

Throw kick ass parties for VIPs

Livestream.com (Video streaming that links with social medias)

10mins of valuable content per week

memberium.com (Great membership sites that easy to use)

amazon – stream video

Instantmediakit.com (Create your media kit instantly)

Collective collaboration

Instant tele seminar

How can you weave your program into your story

Say price upfront????????

Active Community

Free Offer: OPTIN – move through to Newsletter – Constant Great Content – Membership Site $95 per month- Digital Webinar $297 – 1:Day Camp $997 – Group Coach $25000 – Private Coaching $

Content Diva's

Create More Value for the customer

Facebook: 'Likable' (Create an event TAB)

killercovers.com (Create covers for PDFs and eBooks)

Always have FREE giveaways

Pixley & Nimble – website hacks

Get Motivated – Success Resources – CAN YOU CLOSE

WHAT CAN I BRING THAT ADS MASSIVE VALUE???

How to sell: it's all energy:

Questions to Promotors – Minimum numbers at events:

Always a '0' at the end for higher ticket items

Udemy & JV Zoo website content sharing

Unemployable Experts – Find them

NEGOTIATE WITH HOTELS

SPONSORS BEFORE EVENT IS LIVE

RR DONNALLY – biggest printing company in the world

INVEST EVERYTHING YOU HAVE IN GREAT RELATIONSHIPS!
Next speaker was: Andrew Kunov – CEO & Founder Silicon Valley Innovation Centre sharing about how 40% of Fortune 500 corporates will disappear in 10 years and now we are living in an idea economy where success is defined be the ability to turn ideas into value faster than your competition – The next speaker was more of an interview with the ex CEO of Disneyland sharing about Magical experiences: Hear it 7 times then reenforced every 30 days. Processes, scripts and step by steps all in the processes of the company. Not just a 'How too, video' but a 'Why too, videos'!
---
The opening Ceremony for the conference was nothing short of OUTSTANDING.
Emmanual Kelly (singer): He was great and moved us all. Do you remember this???
Next speaker was another Australian Yassmin Abdel-Magied who wowed us with her grace and humility sharing her world of being a Muslim Woman Engineer. (I arranged dinner with her and other Australians tonight…).
Last speaker was possibly the best speaker I have ever seen in recent years. Just amazing. His name is Derreck Kayongo: http://www.globalsoap.org/about/history/ Brilliant at his craft as a speaker and had the entire audience of 1200 speakers from 18 countries, spellbound. Extraordinary to watch us all be inspired and transformed.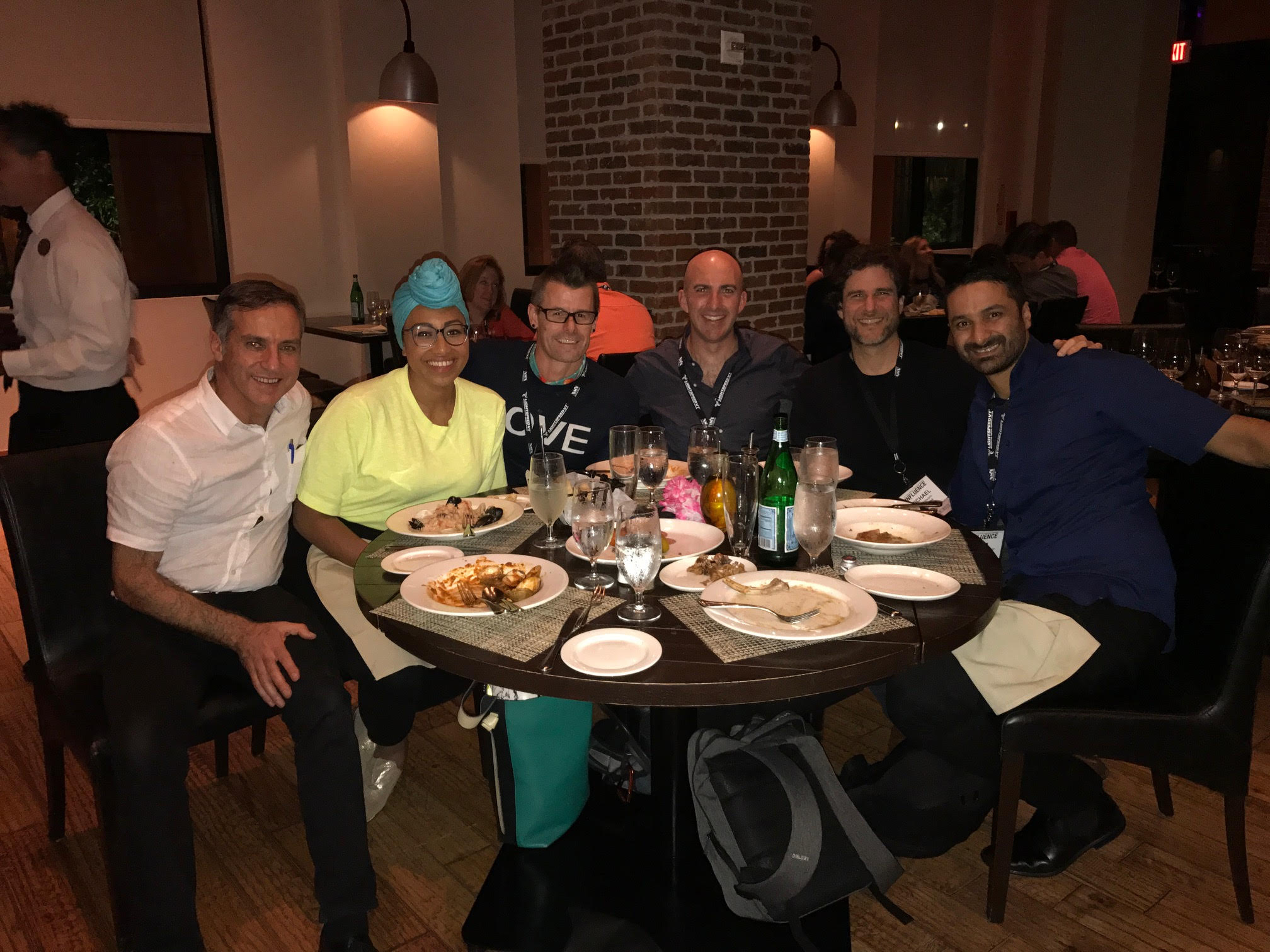 MORE TO COME…
Written by Sam Cawthorn – CEO & Founder of Speakers Institute